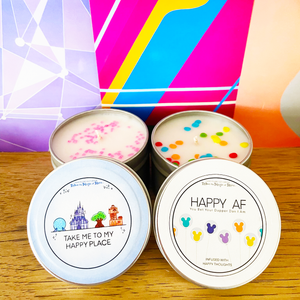 Relive the magic at home with our enchanting "My Happy Places" candle duo!

This enchanting set features two 4-ounce candles, each designed to transport you to your happiest memories at your happiest places!

Our "Happy AF" candle, featuring images of colorful mouse ear balloons, brings a joyful, whimsical touch to your home decor. Also reminiscent of the colorful and joyful Dapper Dans!

"Take Me to My Happy Place," is a journey in a jar, paying homage to the iconic landmarks of the four Disney World parks: The Tree of Life from Animal Kingdom, the awe-inspiring Geosphere at Epcot, the majestic Cinderella's Castle at Magic Kingdom, and the thrilling Tower of Terror at Hollywood Studios.

Each candle in this duo is a perfect gift idea, adding a magical charm to home decor. Crafted with love, these candles capture the magic and wonder of the parks, bringing a piece of their enchantment right into your home.

Whether it's a gift for a dedicated Magic fan or a treat for yourself, our Happy Places  Candle Duo is sure to add a sprinkle of pixie dust to your day!