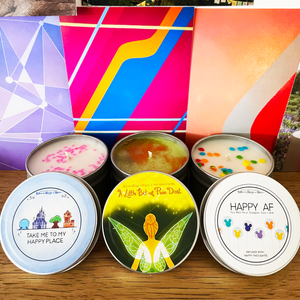 Experience the magic of your Happy Place at home with our "Pixie Dust & Happy Places" Candle Bundle.
This enchanting set features three 4-ounce candles, each designed to transport you to your happiest park memories. The "Tinker Bell and Pixie Dust" candle infuses the room with a fragrance that captures the spirit of Neverland's most famous fairy.
Our "Happy AF" candle, featuring images of mouse ear balloons, brings a joyful, whimsical touch to your home decor.
The third candle, "Take Me to My Happy Place," celebrates four iconic landmarks from Disneyworld parks: The Tree of Life from Animal Kingdom, The Spaceship Earth geosphere at Epcot, Cinderella's Castle from the Magic Kingdom, and the Tower of Terror at Hollywood Studios.
Perfect for gifting to a magic lover, or adding a magical touch to your own space, this candle bundle embodies joy, whimsy, and enchantment.
Remember, a little bit of pixie dust can turn any space into a happy place!